BackOutline of Market Sampling Test
- Marketing sampling test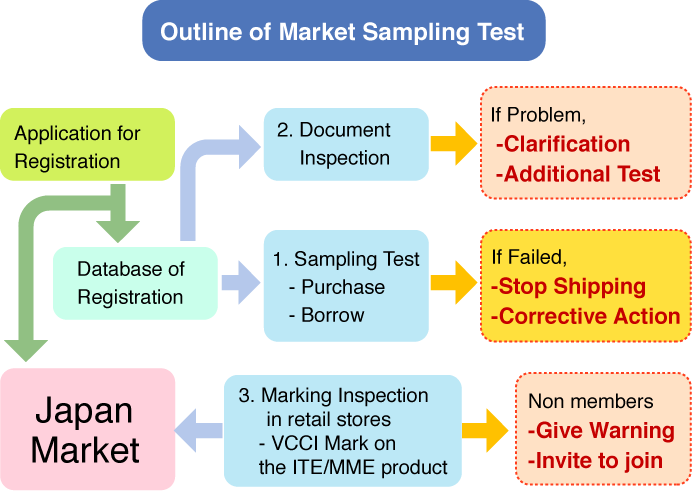 Outline of Market Sampling Test
VCCI member shall confirm the product conformity to VCCI Technical Standard before placing MMEs which are in the scope of VCCI rule including its optional devices into the Japanese market.
Registration to VCCI Council is so-called "Declaration of Conformity" by member company. At that registration application, VCCI Council does not examine its test report, only check the entries of model number, classification code, test report number, etc.
Therefore it is necessary to confirm that the registered equipment comply with VCCI Technical Standard by random sampling test, and secure the reliability of VCCI activity. Optional devices are included in this sampling test even if they are not registered.
See "RULES FOR MARKET SAMPLING TESTS" for more information.
1. Sampling Test
The sample products (bought or borrowed) are selected mainly from the VCCI Registration Database and tested at designated test laboratory based on VCCI Technical Standard, and its Pass-Fail is judged. For Failed product, its shipment is stopped and corrective actions are required, and the product model name and its member name, etc. are disclosed on VCCI-WEB officially.
2. Document Inspection
For the products which are too large or too expensive to measure, their related documents are checked instead of real measurement. It's confirmed whether the conformity verification test is adequate, VCCI mark on the product and VCCI alarm statement in the instruction manual are right. When there is a problem, additional testing, correction of the test report, and/or correction of the marking or alarm statement are requested.
3. Marking Inspection in retail stores
The actual VCCI Mark indication situation is inspected at storefront in mass retailers for the products shipped into Japan Market. The VCCI Mark is a registered trademark. VCCI gives warning against non-member's use of the VCCI Mark, and invite him to join VCCI as a regular member.